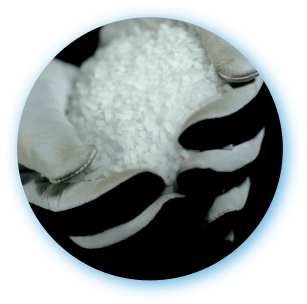 Dry Ice is frozen or solid carbon dioxide (CO2), a colorless and odorless gas that is a natural part of our earth's atmosphere. It's the gas we exhale in breathing and plants use in photosynthesis.
Dry ice keeps items colder for much longer than regular frozen water or "wet ice" because dry ice is extremely cold. Dry Ice has a temperature of -109.3 degrees Fahrenheit (or -78.5 degrees Celsius). Dry Ice changes directly from a solid back to a gas, which is called "sublimating", in normal atmospheric conditions without going through a wet liquid stage. This characteristic means it simply disappears as it sublimates (evaporates) without leaving any trace or residue.
Obviously, one of the primary uses of dry ice is for cooling or freezing, and keeping things frozen because of its very cold temperature. It is also fairly simple to handle using insulated gloves. See "Safe Handling of Dry Ice".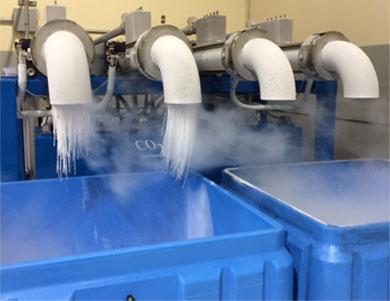 DRY ICE IS A PERFECT "GO GREEN" GAS
In addition to being clean and safe, CO2 is obtained as a byproduct of other industrial processes.
THE ADVANTAGES OF COMMERCIAL DRY ICE APPLICATIONS
The dry ice uses we're most familiar with are freezing and carbonation in the food and beverage industries, but dry ice also has far reaching cleaning properties that are simple in application and highly effective. The fastest growing industrial use is dry ice blasting or cleaning, which cleans efficiently with virtually no trace upon sublimation. Dry ice cleaning is a non-conductive, non-abrasive, and environmentally safe cleaning method being used to great advantage in almost every industry. Since dry ice sublimates on contact, there is no waste or residue left behind, and most equipment can be cleaned in place without expensive down-time or disassembly.
Dry ice is also used as a fumigant to arrest and prevent insect activity in closed containers. Because it displaces the oxygen during sublimation, it not only freezes insects and larvae, but also suffocates them while leaving no trace or chemical footprint, and of significant importance in the food industry, without altering the taste or quality of foods. This process has also been used with success in the treatment of wood restoration in combating insect infestations.
DRY ICE INDUSTRIAL APPLICATIONS: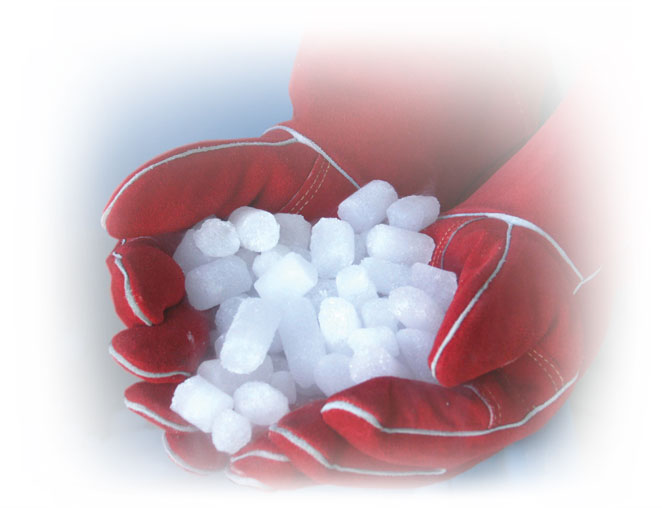 Aerospace
Agricultural
Automotive
Contract Cleaning
Electric Motor
Fire Restoration
Food and Beverage
Foundry
General Maintenance & Facilities
Historical Restoration
Medical Device Manufacturing
Mold Remediation
Packaging
Plastics
Power Generation
Printing
Rubber Molding & Manufacturing
Engineered Wood Industry
Ask your OXARC representative about the almost unlimited ways dry ice can improve your operation.
DRY ICE IS AVAILABLE IN:
BLOCKS are approximately 55 to 60 pounds each and usually measure 10' X10" X 12".
Cut Blocks or "SLABS" are approximately 10 pounds each and are usually 2" thick.
PELLETS are usually produced in three sizes. SMALL, MEDIUM, and LARGE. Ranging in sizes approximately 1/8", 1/4", and 1/2".
STORING, TRANSPORTING OR SHIPPING DRY ICE
Custom designed insulated containers are made specifically for transporting and storing Dry Ice. These containers come in a variety of sizes, shapes, and styles to accommodate a variety of short or long term storage applications and to maintain critical temperatures. They offer exceptional ergonomic design and outstanding durability.
DRY ICE BLASTING IS CLEAN & SAFE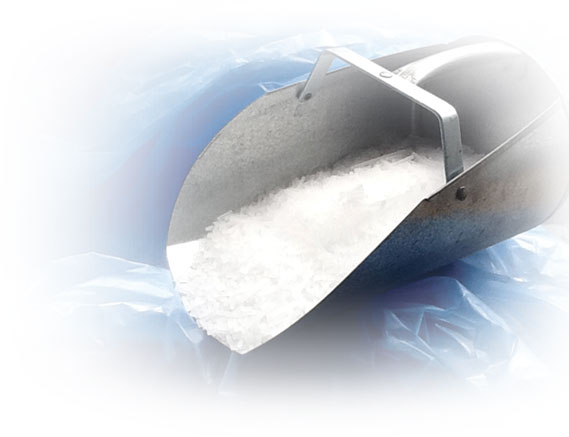 Dry ice is an approved medium by the EPA, USDA & FDA, and is non-toxic, non-hazardous and inhibits mold & bacteria growth
Dry ice blasting has been effectively used in EPA, USDA, FDA, AIB and GFSI inspected/certified facilities
Dry ice blasting is safe to use with food processing equipment
Dry ice blasting does not release harmful gases into the atmosphere
Dry ice blasting does not generate secondary waste
Dry ice blasting is safe and non-toxic (once particles impact the surface they dissipate into the atmosphere)
Dry ice blasting reduces or eliminates employee exposure to (and corporate liability from) the use of dangerous chemical cleaning agents
OTHER CLEANING METHODS CAN BE TOXIC
Sand, soda, or water blasting can leave toxic secondary waste to be cleaned up in addition to the toxic substrate
Sand, soda, or water blasting can create downstream contamination that effects surrounding installations
Soda blasting can kill surrounding vegetation
Chemical and solvent cleaning methods are toxic, which creates toxic waste to be disposed of
Workers are exposed to potentially harmful substances through the use of chemicals and solvents
DRY ICE BLASTING
Industry Uses
Food Industry
Dry ice blasting is ideal for the food industry, as the cleaning process does not involve the use of water or chemicals. The various applications of dry ice blasting in the food industry clearly illustrate just how versatile the system is. The process is used to remove baked-on food deposits from ovens and to clean mixers and moulds. It can remove paper and adhesives from packaging machinery. Dry ice blasting can be used on plastics and metal surfaces irrespective of whether the object to be cleaned is hot or cold.
Electronics
Dry ice blasting can be used to clean dirt and soot from electronics without making them wet or using chemicals. Dry ice blasting can be used on units of up to 29 kW without disconnecting the power supply. Unexpected power failure and resulting production shutdown can be avoided by periodically cleaning electronic components.
Printing
Dry ice blasting is an effective means of removing wet and dry ink, powder, paper dust and adhesive residues. This keeps the number of unexpected shutdowns to a minimum, improves product quality and reduces maintenance time.
Moulds
Dry ice blasting can beneficially be used to clean moulds during production. This reduces downtime. Mould surfaces are not damaged, as the process is very gentle.
Buildings
Dry ice blasting can be used to remove soot and dirt from buildings and thus restore surfaces. The method is often used for factory buildings where it is crucial to recommence production as quickly as possible. Because dry ice vaporizes on contact with the building surface, dry ice blasting can be used to clean the insides of buildings without the need to move equipment, machinery or furnishings. Where traditional cleaning methods - involving the use of water and chemicals - are used, it is often necessary to dismantle and move equipment to protect it from damage.
Dry Ice cleaning is extremely effective in removing toxic residues, soot, and associated smells after a fire. Dry Ice cleaning of surfaces is not toxic and will stop the growth of mold, mildew and other fungi as well as stopping odors at the source by eliminating the bacterial host, not as a masking agent or cover-up. Dry Ice cleaning is 100% ecologically safe, USDA rated, biodegradable and harmless to humans, animals and marine life.